Cut accumulation of the Buddhist scriptures leather medicine
Model:RD  Rotary Die Cutter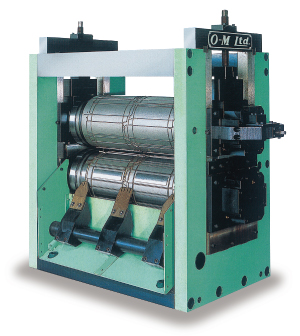 Rotary cutters are available in two types: "Crush Die Cutter" and "Rotary Pressure Cutter".

1. The change from conventional reciprocal motion to rotary motion, the largest advantage of the rotary working system, can drastically improve the efficiency of blanking(pattern) as well as providing high speed, stable, and quiet operation.

2. Conventionally, a cut pattern was made on the rotary cylinder and then the cylinder underwent hardening. Therefore, there was a problem of degraded accuracy caused by distortion during hardening.

O-M's die cutter uses a method of working a pattern on a high-accuracy rotary cylinder that is hardened and polished in advance by the rotary electric discharge machine(EDM).

This has achieved pattern working that is highly accurate in all three dimensional directions, i.e. height, width, and depth, and enabled high-accuracy edge forming that can withstand long-term use.
Detail