Setup Type Side Loading Caser
Model:VSBA  Side-Loading Set-Up Caser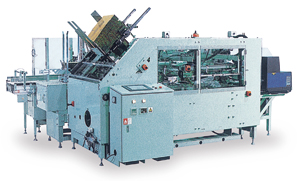 Fully automatic corrugated cardboard set-up caser which achieves all processes of case set-up, product loading and case sealing on one machine. For case sealing, two choices are available; hot melt gluing and adhesive tape.

Depending on the size range of case, two model types are available; VSBA-I and VSBA-II.

A quick change mechanism is equipped as a standard feature for easier change-over. Case is opened at its side and products are loaded horizontally.
Detail