Model:VCRE (BALCONY TYPE)  High-speed Horizontal Cartoning Machine (Continuous Motion)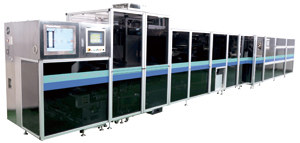 A high-speed cartoning machine with a balcony type frame structure and loading space on the back side for outstanding maintenance, sanitary and design aspects.

Carton ejection forming forces cartons open with the side-suction type 4-head rotary unit that ensures reliable ejection forming, even under high-speed operation.

Connection with a blister packing unit enables use with a copier for PTP sheet packing.
Process
VCRE45
Carton (mm)
Width
30~85
Height
15~45
Length
83~150
Speed (Ctn/Min)
50~300(400)
Machine (mm)
Length
6,276
Width
1,499
Height
1,604

Power Consumption (KVA)

約10
Air Consunption (Nℓ/Min)
60
Weight (kg)
5,500
Optional Accessories
Various Automatic Feeder Unit, Leaflet Folding and Supply Unit, Various Coding Unit (Color Embossing, IJP, Laser Marker etc), Various Detect Unit (Leaflet Check, Coding Check, Bar Code Check, etc), Flap Gluing Unit, Others