Model:VCL-Q  Tray Packer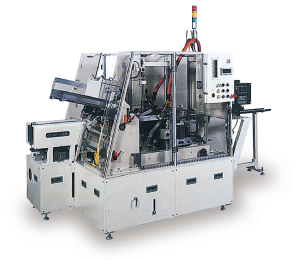 A tray type packer to pack accumulated products with cardboard blank sheet.

1. The packer is followed by such processes as banding (VWST Tight Packer), Sleeve Wrapping (VWS), Film Over-Wrapping (VWK).

2. The final package can be displayed at retail store shelves after removing the film.

3. Two types of tray package are available; longitudinal and trans-verse orientation.
Specifications & Process Flow
Specifications
VCL-Q
Carton (mm)
Width (W)
150~350
Height (H)
50~200
Length (L)
75~300
Speed (Ctn/Min)
7~25
Machine (mm)
Length
3,200
Width
1,600
Height
2,200
Power Consumption (KVA)
6.5
Air Consumption (Nℓ/Min)
300 [300]
Weight (kg)
2,000
Optional Accessories
Automatic Accumulating-Feeder, Calendar Timer, Large Volume Sheet Magazine, Coding Unit, Counter, Various Detect Device, Ejector