Model:VCPB (BALCONY TYPE)  Horizontal Cartoning Machine (Intermittent Motion)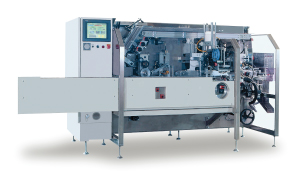 A Compact Cartoning Machine Developed For Medical & Cosmetics Customers.

1. A balcony type frame structure ensures easier maintainance and cleaning works on the lower part of machines.

2. A forced carton opening device, equipped as a standard feature, stabilizes carton pick-up & forming.
Specifications & Process Flow
Specifications
VCPB 120
VCPB 200
VCPB 240
VCPB 300
Carton
(mm)
Width
20 ~ 80
70 ~ 160
40 ~ 200
50 ~ 250
Height
10 ~ 60
20 ~ 110
20 ~ 120
40 ~ 170
Length
50 ~ 170
150 ~ 300
90 ~ 150
90 ~ 150
W+H
MAX. 140
MAX. 275
MAX. 300
MAX. 275
Speed(Ctn/Min)
30 ~ 80
10 ~ 30
10 ~ 60
20 ~ 30
Machine
(mm)
Length
3,375
5,110
5,600
5,800
Width
1,310
1,950
1,575
1,660
Height
1,516
1,650
1,675
1,650
Power Consumption
(KVA)
Approx. 9
Approx. 11
Approx. 11
Approx. 11
Air Consumption
(Nℓ/Min)
Approx. 500
Approx. 500
Approx. 500
Approx. 500
Weight(kg)
2,100
3,000
3,300
4,000
Optional Accessories
Various Automatic Product Feeder Unit, Coding Unit, Leaflet Folding Unit, Gluing Unit, Card Pick up & Feeding Unit, Ejector, Carton Bar Code Check, Coding Check, Leaflet Check, Glue Application Check, Others