Model:VCPC (BALCONY TYPE)  Horizontal Cartoning Machine (Intermittent Motion)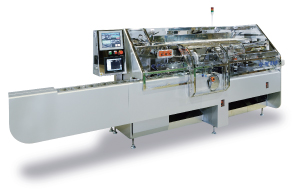 A Space Saving Balcony Type Cartoning Machine Developed For Medical & Cosmetics Customers.

1. Able to save the installation space compared to our existing machine.

2. Able to give stable and reliable insertion with Leaflet Servo Inserting System.

3. Able to stably perform the carton pick up, forming, and opening with Carton Opening Device.

4. Universal Design which makes easy operation and maintenance works possible for everyone.
Specifications & Process Flow
Specifications
VCPC140
VCPC240
Carton (mm)
Width
20~105
40~200
Height
10~100
30~130
Length
60~180
100~170
Speed (Ctn/Min)
MAX.100
MAX.70
Machine (mm)
Length
3,629
4,733
Width
1,553
1,593
Height
1,410
1,760
Power Consumption (KVA)
34
25
Air consumption (Nℓ/Min)
80
100
Weight (kg)
2,500
3,000
Optional Accessories
Various Automatic Feeder Unit, Conding Unit, Leaflet Folding Unit, Gluing Unit, Card Oick-up & Feeding Unit, Ejector, Carton Bar Code Check, Coding Check, Leaflet Check, Glue Application Check, Others