Model:VCRC(BALCONY TYPE)  Horizontal Cartoning Machine(Continuous Motion)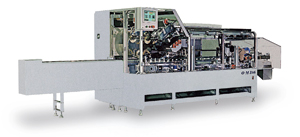 1. Space saving design fits in only two-thirds of the floor space needed by our conventional cartoners and adapts to a flexible layout.

2. The direct drive system using a servo motor dramatically reduces maintenance works.

3. The ion (C) system + finger (F) holding (H) mechanism ensures reliable opening of cartons.

4. The timing belt in the carton conveyor enables oil-less operation and eliminates stretching defects on the carton finish.

5. All necessary operations are easily performed from the front of the machine.Customer feedback on easy-of-use was given primary importance in the design.
Specifications & Process Flow
Specifications
VCRC45
VCRC75
Carton
(mm)
Width
30~85
60~150
Height
20~50
17~65
Length
83~200
120~220
Speed(Ctn/Min)
50~240
50~240
Machine
(mm)
Length
4,477
4,771
Width
1,373
1,448
Height
1,280
1,680
Supplying Length
1,300
1,300
Body length
3,177
3,471
Power Consumption
(KVA)
14
14.4
Air Consumption
(Nℓ/Min)
40
40
Weight(kg)
3,000
3,000
Optional
Accessories
Carton Bar Code Check, Coding Check, Leaflet Bar Code Check, Leaflet Check, Glue Application Check, Flap Forming & Correction Unit, Color Embossed Coding Unit (Front Only), Leaflet Feeding Unit, Leaflet Folding Unit, Leaflet Large Volume Leaflet Magazine, Automatic Size Change, Various Automatic Feeder Unit